DJI Mavic Pro Drone
Up to 4.3 miles (7km) of transmission range
Speed up to 40mph (64kmh)
Gimbal-Stabilized 12MP / 4K Camera
Professional High End Drone
$999.99
Best deal at:
Amazon.com
Buy for best price
Set Lowest Price Alert
×
Notify me, when price drops
Set Alert for Product: DJI Mavic Pro 4K Quadcopter with Remote Controller, 2 Batteries, with 1-Year Warranty - Gray - $949.00
Price history
×
Price history for DJI Mavic Pro 4K Quadcopter with Remote Controller, 2 Batteries, with 1-Year Warranty - Gray

Latest updates:

$949.00 - January 1, 2023
$889.00 - January 1, 2023
$949.00 - January 1, 2023
$889.00 - January 1, 2023

Since: January 1, 2023

Highest Price: $949.00 - January 1, 2023
Lowest Price: $889.00 - January 1, 2023
Last Amazon price update was: March 19, 2020 2:03 pm
×
Product prices and availability are accurate as of the date/time indicated and are subject to change. Any price and availability information displayed on Amazon.com (Amazon.in, Amazon.co.uk, Amazon.de, etc) at the time of purchase will apply to the purchase of this product.
Add to wishlist
Added to wishlist
Removed from wishlist
2
Last updated on March 19, 2020 2:03 pm
Description
DJI Mavic Pro Drone Review
DJI Mavic Pro Drone Review 2023 – is the DJI Mavic Pro quadcopter worth the money? Review of features, pricing, flight duration, battery, camera and more.
$

949.00

$999.99
1 used from $749.00
1 new from $949.00
in stock
$

999.00
1 new from $999.00
in stock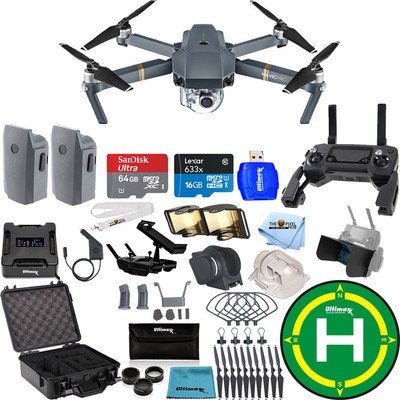 $

909.00

$1,399.00
out of stock
Drones have been steadily rising in popularity over the last decade or so. What originated as surveillance gadgets used by the military have evolved as a form of entertainment for adults and children alike. Some people use drones primarily for their exploratory capabilities, while others are after the aerial video and images they can capture. There are many different drone models that are designed for different uses and levels of quality, and the wide variance in price reflects that variance. Before committing to a particular model, do a little due diligence beforehand to ensure you are getting just what you need and want for an affordable price. The DJI Mavic Pro Drone is a popular high-quality model weighing in at $1,000 that deserves some attention.
DJI Mavic Pro Drone Overview
The DJI Mavic drone is one of DJI's most advanced drones to date. It is a small but powerful drone with sophisticated image-ing capabilities with a three-axis stabilizer and an over four-mile range. Its compact size makes it ideal for traveling with to capture all those spontaneous moments at professional video and image quality. This drone is user-friendly with its impressive core features all accessible at the push of a button.
back to menu ↑
Wider Range
Inside the DJI Mavic's tiny remote control is the revolutionary OcuSync transmission technology. With a range of over four miles, it features an HD 720p long-range and a full 1080p short-range for video streaming. When unobstructed and FCC compliant, Mavic users enjoy the long range and superior video-streaming capabilities.
back to menu ↑
Drone Protection for Durability
Anyone who has flown a drone knows the dangers of trying to protect it from bumps and scrapes. Crashing into obstacles is simply part of drone operation, and to counteract that danger, the DJI Mavic employs FlightAutonomy technology capable of sensing obstacles of up to 49 feet away. The drone can react to obstacles by either braking and hovering or bypassing them entirely. This state-of-the-art technology allows for the drone to make its descent home safely and unharmed.
back to menu ↑
Sensors
A drone's ability to hover is dependent upon the presence of sensors. Positioning based on satellites only helps drones hover in open spaces. Without satellites, drones can't hover precisely and drift. This is problematic for new flyers or for people wanting their drones to travel long distances. Thanks to the DJI's downward and forward vision sensors, the Mavic is capable of hovering indoors or in locations without satellite protection.
back to menu ↑
Longer Flight Time
Although the Mavic is one of the smaller drones on the market, the smaller size does not equate to shorter flight times. On the contrary, the Mavic boasts an impressive flight time of 27 minutes and can continue for a distance of up to eight miles. This is thanks to its compact size and the DJI's powerful and efficient motors.
back to menu ↑
Ultra HD Video Capabilities
The DJI Mavic Pro drone supports 4K video with 30fps. Without the use of image stabilization, all video footage shot by the Mavic is guaranteed to be 4K. The camera's three-axis gimbal is extremely precise, allowing for the stabilization of the camera even during flights of high speed and distance. This makes the image and video footage shot by the Mavic sharper, clearer, and smoother than others on the market.
Common to all DJI cameras, the core technologies are equipped with a 1-to-2.3 inch CMOS image sensor; this is a feature commonly used by professional sports photographers. The integrated camera lens supports a focal length of up to 28mm. It is capable of shooting 4K video at 30fps and 1080p video at 96fps with 12-megapixel ultra-clear photos.
back to menu ↑
Premium-Quality Images
The drone's popularity as a form of entertainment can be understood in terms of its usability and aerial image-capturing capabilities. Many users' primary use of drones is based on its ability to capture high-quality aerial images. Drones are an amazing resource when it comes to capturing epic nature scenes from above. It has also become a new trend in wedding photography to capture video and images shot from above. The Mavic boasts a 12-megapixel camera with Adobe support that is always ready to shoot premium-quality images and footage.
The camera in the DJI Mavic is even capable of flipping 90 degrees in the same way you would flip a phone to get the desirable portrait effect. In terms of editing, every photo captured by the DJI Mavic camera is supported in Adobe DNG RAW so users have all the editing capabilities necessary to turn those aerial images into impressive works of art capable of blowing up and framing.
back to menu ↑
DJI Mavic Pro Drone Overview
For $1,000 US, the DJI Pro Drone is undoubtedly a pricey model, but considering what you get for the price, it is well worth it. Its compact size and foldable design makes it an ideal drone for taking along on day trips, holidays, or packing for any destinations where a video- or image-worthy scene could emerge.
Thanks to the three-Axis Gimbal and 4K Camera, the camera can produce HD-quality images and videos at any speed as the powerful gimbal provides the ultimate in stabilization for smooth recording and crystal-clear image capturing.
While many users of smaller drones like the DJI Mavic complain that the compact size comes with the side effect of shorter flight times, that is not the case with the DJI Mavic Pro drone. With a 27-minute flight time, the DJI Mavic doubles the flight time of the majority of other drones on the market. Longer flight time is an appealing option for flyers wanting exploration drones capable of capturing footage farther afield than other models that are likely to need to return home for recharging before they can reach those impressive exploratory distances.
Most people enjoy drones for the impressive aerial images they can capture. The portrait mode is an extremely popular feature as drone operators can produce professional-quality images worthy of mounting or framing. With the editing capabilities of the Adobe DNG RAW, images can be further perfected and customized to the users' preference. For $1,000, purchasers of the DJI Mavic Pro drone can enjoy a durable design, longer flight times, and professional-quality video and image capturing.
$

949.00

$999.99
1 used from $749.00
1 new from $949.00
in stock
$

999.00
1 new from $999.00
in stock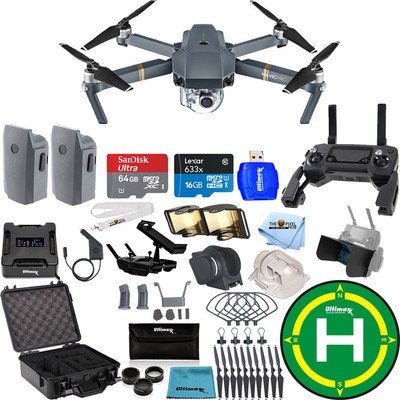 $

909.00

$1,399.00
out of stock
Tyler West received a Bachelor Degree in computer science from The University of Texas Austin. Tyler has been working as a full-time computer programmer for the past 3 years. In his spare time, Tyler's favorite hobby is flying drones. One of Tyler's life goals is to become a full-time drone pilot.
DJI Mavic Pro Drone Rating
PROS
One of the Best Drones on the Market
Professional Camera
Several Mile Transmission Range
Easy Setup
Price History
Price history for DJI Mavic Pro 4K Quadcopter with Remote Controller, 2 Batteries, with 1-Year Warranty - Gray

Latest updates:

$949.00 - January 1, 2023
$889.00 - January 1, 2023
$949.00 - January 1, 2023
$889.00 - January 1, 2023

Since: January 1, 2023

Highest Price: $949.00 - January 1, 2023
Lowest Price: $889.00 - January 1, 2023